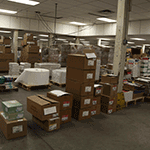 wrap-up auction, remaining assets
By Order of the Receiver, Theodore Orson, Esq.
TwoBolt, formerly Mercury Print & Mail Company
1110 Central AvenuePawtucket, RI
Date: ONLINE BIDDING ONLY, Bids Close 3-7-17 Noon
.
Computer servers, network gear, pallet racking, software, paper, inserting machine, office equipment, toners, data cards, benches, trailer, storage container and more...


---